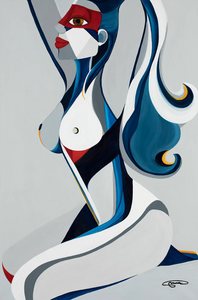 ABOUT THE PAINTING
Inspired by the warrior each and every one of us carries within. This painting stands for women's journey through generations for as long as we can remember. The red stands for the force of life, for the battle, and bloodshed, held, and given. The red band around the eyes -  a war painting standing for the battles we fight for our rights, the red around the heart- standing for love, passion and life, and the red around the knee stands for the kneeling both when chosen with wisdom but also when forced upon. I wish this painting to serve as a reminder of how we still fight, kneel, bleed, create life and we still continue to be warriors in heart and soul awakening to and remembering our inner warrior.
ORIGINAL
Acrylics on linen canvas
100x150cm
FINE ART PRINTS
Limited Edition Giclée Prints
Limited Edition Giclée print of 50 signed and numbered by the artist. Canson Infinity Edition Etching Rag, 310g
Size A2 (59,4x42 cm)
POSTERS
COMING SOON
SHIPPING
Free shipping- Additional local fees not included.