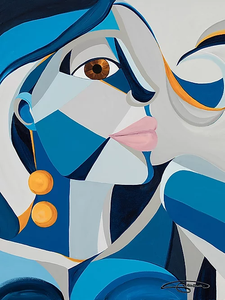 ABOUT THE PAINTING
While working on this painting I was immersed in thoughts about women throughout history and women of today, about the role we've had and still have both chosen and forced upon us, about the progress we have made and still make so that we can stand tall and equal. I wanted to bring forth the notion of the goddess as a reminder of the bliss, strength, kindness, assertiveness, and beauty we all carry inside and the wonder of being gateways to and nurturers of life. She is represented by the moon and its cycles but also by water- bearer of life and forever bound to the heavens- the strongest element thanks to its flexibility and tenacity. One drop of water constantly pouring on a stone will eventually make a hole in it. Same goes with whatever obstacle water might encounter-it will find its way through, either that be through dirt, stone, or air. The feminine truly is strength and something that we should allow ourselves to awaken to, to cultivate and to be proud of.
Original 
Acrylics on canvas 
 Size 80x100
SOLD
FINE ART PRINTS
Limited Edition Giclée print of 50 signed and numbered by the artist. Canson Infinity Edition Etching Rag, 310g
Size 50X60cm
POSTERS
High-Quality Print on, Matt Coated Paper, 180g
Size 50x70cm
SHIPPING
Free shipping- Additional local fees not included.