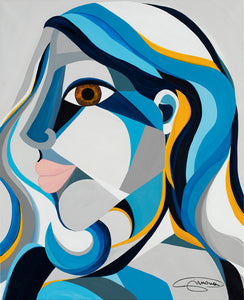 ABOUT THE PAINTING
I SEE, was inspired by a period of my life where I started to see my surroundings with new eyes and to understand which changes that were needed, for me to advance and move closer to how I wanted to experience my life on an everyday basis and how I wanted to be as a person. It started to become clear which mindsets, people, situations, hurts and disappointments that were holding me back and that were taking so much more than what was given in return. I have been working on this ever since and for every step closer to myself that I take, I see with ever more ease and clarity what need to be done next. 
ORIGINAL 
Acrylic on canvas
100x80 cm
Certificate of authenticity included
FINE ART PRINTS
Limited Edition Giclée print of 50 signed and numbered by the artist. Hahnemüle Photo rag 308g

- Size A4 (21x29,7 cm)
- Size A2 (59,4x42 cm)
-Size 100x70 cm
SHIPPING
Free shipping- Additional local fees not included.