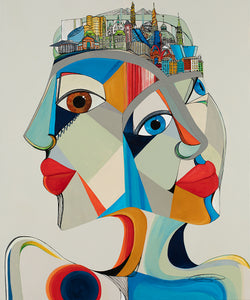 ABOUT THE PAINTING
This painting is part of an ongoing series of paintings portraying cities/countries worn as crowns. It portrays the beautiful City of Copenhagen and some of its magnificent architecture. Here you will find both old and new buildings such as: Christiansburg Palace, Fredericksburg Church, the City Hall, the Axel Towers, the Circus Building, Tivoli, Rundetaarn, the Royal Theater, the Royal Danish Opera, Nyhan, Tycho Brahe Planetarium, the Royal Arena, Bella Sky building and the Eight apartments complex (Åttan).
ORIGINAL 
Acrylics and Acrylic markers on canvas
100x120cm
FINE ART PRINTS
Fine Art Prints signed by the artist. 
Hahnemüle Photo Rag 308g
- Size A3 (19,7x42,0 cm)
-Size 50x70cm
- Size 70x100 cm
POSTERS
Not available.
SHIPPING
Free shipping- Additional local fees not included.