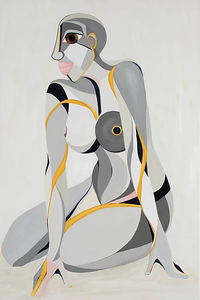 About the Painting
This piece was inspired by the breathing space (andrum) I began to feel, breathing space from constant aches, fatigue, anxiety, and all that it means to recover from a severe burnout and three difficult disc ruptures. I have tried to put together a sense and vision of light, rest, and renewal that begin to sip through my "veins" and strengthen me from within. 
ORIGINAL 
Acrylic on canvas
100x150 cm
SOLD
FINE ART PRINTS
Limited Edition Giclée Prints
Limited Edition Giclée print of 50 signed and numbered by the artist. Canson Infinity Edition Etching Rag, 310g
Size A2 (59,4x42 cm)
POSTERS
High-Quality Print on, Matt Coated Paper, 180g
Size 50x70cm
SHIPPING
Free shipping- Additional local fees not included.