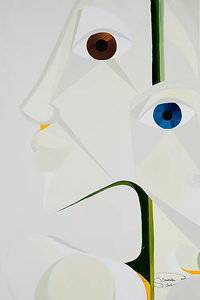 ABOUT THE PAINTING
White Orchid is portraying, as the title says, a white orchid. We had a huge white orchid in our bedroom window and every morning when the sun rose it would light up its petals. On bad mornings when my aches where the worst I tried to inhale the light and beauty of this flower and it felt like my soul and mind were breathing light. With this particular painting, I aimed at bringing forth that light and life force for others to inhale.
ORIGINAL
Acrylics on linen canvas
100x150cm
FINE ART PRINTS
Limited Edition Giclée Prints
Limited Edition Giclée print of 25 signed and numbered by the artist. Canson Infinity Edition Etching Rag 310g
Size A2 (59,4x42 cm)
SHIPPING
Free shipping- Additional local fees not included.